Loading Slideshow...
Chamal
Rajapaksha implores an unsympathetic umpire for a dismissal while the "100 Catch' Ben Wall runs in to assist
.
Premiers pipped
With Birkenhead starting the day at 86/2 chasing 269, this had the prospect of being a tight run chase throughout the 2nd day of this Tom Hellaby clash.
The wet weather throughout the week delayed the start until 230pm but the Shore boys took no time to get into their work, with Chamal Rajapaksha taking a wicket with his 2nd ball of the day, some excellent bowling from Chamal and Matt Strain continued to put the pressure on the Birkenhead middle order resulting in them losing four wickets with the score at 110 and another at 112 to leave them reeling at 112/8.
Chamal finished with the excellent figures of 4/22 off 9 overs in taking apart the middle order. Carl Brungar then helped finish the innings on his way to figures of 3/32. A very good all round display to remove the Birkenhead side for 139.
This left around 30 overs in the days play and so looking to push for the outright, Graeme enforced the follow on to try and knock the Birko side over again. Despite creating numerous chances, the boys couldn't hold on to enough of them to put the pressure on Birkenhead to survive, with play finishing at a score of 118/4.
Special mention must go to wicket keeper Ben Wall who with the removal of the Birko number 3 in the 2nd innings, took his 100th catch behind the stumps for the premier side. An outstanding achievement from a true club man.
This leaves the Shore boys 16 points behind leaders Grafton in the race for promotion, but with a favourable draw the team is confident they can run this down, starting next week against Eden Roskill at Keith Hay Park.
Go The Shore!
Shore lose Jeff Crowe Cup Semi-Finals

Another day of cricket over the weekend as the boys put on the coloured clothing and trekked over to Cornwall Park to play in the Jeff Crowe Cup One day semi final.
With some rain around in the morning the start was delayed and the game reduced to 48 overs a side. Graeme then stayed true to form and lost the toss as Cornwall elected to bat first on a slow-looking wicket. The game got off to a great start, with an athletic stop in the covers from Michael Olsen causing a miscommunication between the two opening batsman, a good throw followed and Graeme whipped the bails off to run the opener out without facing a ball. This then brought the dangerous Aces batsman, Michael Guptill-Bunce to the crease and although he threatened to get going, he was soon removed by Chamal Rajapaksha (2/35). An inspired bowling change then followed, with the sparsely used Sam Hinds (1/15) coming on to remove the Cornwall overseas pro just as he was starting to look dangerous.
This left Cornwall 84/3 and the game sitting in the balance, another solid partnership was starting to build until Matt Strain (1/42) broke it in the 34th over with the score at 137. From here on out some tight bowling especially from Aakash Choudhary (2/31) and excellent fielding including a great run out from Sam Hinds (another Cornwall batsman gone without facing a ball), and the self proclaimed 'Catch of the decade' from Graeme Beghin, meant the Cornwall lower order could never really get going and they were bundled out in the last over for a middling score of 209.
Shore went into the innings break reasonably pleased with their efforts and confident of chasing the score down. The innings got off to a great start with openers Matt Selby and Graeme smashing the ball to all parts and racing to 30 after just 3 overs. Selby was then removed with the score on 32, bringing Gus McKenzie to the crease. Gus looked in great touch, until he was unlucky to be given out caught behind. Another wicket soon followed and the boys game was well poised with Shore 56/3 after 11 overs. However a strong Cornwall spin attack including Aces stalwart Tarun Nethula, really started to put the screws on. This pressure resulted in Graeme being unfortunately run out for 39 just as he looked set for another big score. After another wicket fell the boys were struggling at 84/5. A then promising partnership was cut off when Aakash was removed by an outstanding catch for 23. This left Chamal out in the middle to try and get the remaining 90 runs with the lower order, and try he did. An outstanding knock dragged the team to 174/7 with 5 overs remaining, giving the team real hope. Unfortunately a couple of quick wickets fell and Chamal was the last man out for an excellent 60, topping off a superb personal weekend for the All rounder. Shore were all out for 178 falling 31 runs short of their target.
This ends the limited overs season for our Premier side who made the semi finals in both formats. They are very disappointed they were not able to progress further but will be back next year knowing they have what it takes to go that bit further.
Go The Shore!
---
Reserves & B1s washout
last Saturday


---
Emerging Players Scholarship
Entries close end of February
Here's a few words from one of last year's recipients, Gus McKenzie.

"In 2016 I received an Emerging Players Scholarship from the North Shore cricket scholarship fund to help further my game. I am most appreciative of the assistance and believe it has helped me progress as a cricketer and deliver some measureable results for North Shore.
I sought some advice last winter on how I could improve my performance The feedback was I needed to get stronger, particularly core strength, which would in turn help me bowl quicker and prevent injury. Therefore this is where I focused most of my efforts.
I used the bulk of the grant for training with Dean Rice, a strength and conditioning coach, who is continuing to help me throughout the 2017 off-season also.
Many thanks for the assistance. I have thoroughly enjoyed my season and look forward to returning from varsity later this year for another season with North Shore."
For full information and to apply got to http://www.northshorecricket.co.nz/emergingplayersscholarship.php


Since leaving school Gus has been a regular in our Premier Men's team this season and also represented Auckland at under 19 and is part of the 'Developing Future Aces' programme. We wish Gus all the best at university and look forward to having him back next season.
Go The Shore
---
North Shore Cricket Club would like to give special thanks to: Steven Pleciak, John Stroobant, Shawn Lewis, Johanna Melhuish, Alice Browning, Liz Chambers, Karen McKenzie and Ross Parlane
for their tireless efforts in making Junior World Series 2017 such a huge success.
---
What's on the Menu?
From

Saturday

early right through to

8.30pm

you can get food and drink at the cricket club

on Saturday

.
Karen kicks off the day with her delicious food and coffee,
Lucy is in the cafe from

12-4pm

with lunches, her yummy cricket themed home baking and hot and cold drinks then from

5pm

Finn and Grace will be looking after your dinner for $10.
The dinner menu changes weekly, if you haven't already 'like' us on Facebook to keep up to date with what's on the menu each week.
---
Junior Round Up
Emerging Hearts
The Sportslink International Emerging Heats team faced up against Cornwall at Vauxhall

on Saturday

afternoon. The match became a 9 aside competition. Cornwall were only able to field 9 and although the North Shore 'Mum subs' were on hand only Mary-Jane (Mum of Emily) was selected to fill in until Ruby arrived (questions around Mum selection policy will be addressed at another time). None of the Cornwall batters got more than 10 runs off the bat in another tight bowling and fielding effort from North Shore. Best of the bowlers were Emily (6 overs, 1 maiden, 8 runs, 2 wickets) and Libby (2 overs, 6 runs, 2 wickets). The other bowlers (Rosie, Anna and Kennedy) all had economy ratings of 2 per over or less. Cornwall all out for 38 in the 21st over.
I
n reply North Shore reached 39 for the loss of 2 wickets in the 9th over. Another solid win and with Takapuna beating Howick

on Saturday

the team are now equal first place again on the points table. This week it's a top of the table clash against Howick at home so come along and show your support!
Ruby Worrall takes a catch off the bowling of Libby
Junior Round Up
Some North Shore teams played East Coast Bays teams in North Harbour inter-club rep fixture

on Sunday

.
A Year 3 and Year 4 team played at Windsor Park and had a tough day at the office.
In the hardball section Years 5, 6 and 7 played at Wainoni Park. North Shore made a clean sweep winning three from three. Here are reports from the teams…
On a sweltering

Sunday

, a combined NSCC Year 7 team took an East Coast Bays outfit apart with a strong display of batting from the top order in the second innings which supported good bowling and fielding in the first.
After winning the toss and electing to bat to take advantage of the dry outfield later in the day, the North Shore team had to contend with an ECB opening pair who proved difficult to dislodge. Johnny Cole was the first to make a breakthrough though by clean-bowling the first opener, followed by Joel Berry removing the other a few balls later. That signalled a steady decline for ECB with Johnny taking three wickets for 16 and Joel Potter taking two for 19. There was some sharp fielding as well which saw two run outs; one brought about by a quick and accurate return by Felix Blanchard and the other by Nick Davies.
The second innings started with Heath Tomlinson and Jasper Moy opening the batting; this pair piled on 77 runs in short order with Heath retiring on 53, scoring a stunning half-century which included 10 fours! This was a solid foundation on which the following NS batsmen built the rest of the innings, running down ECB's 154 all out within only 23 overs for the loss of only 2 wickets.
In his first outing as Captain, Rupert Powell was justifiably proud of this combined team with 6 players from the morning and 5 from the afternoon Y7 teams.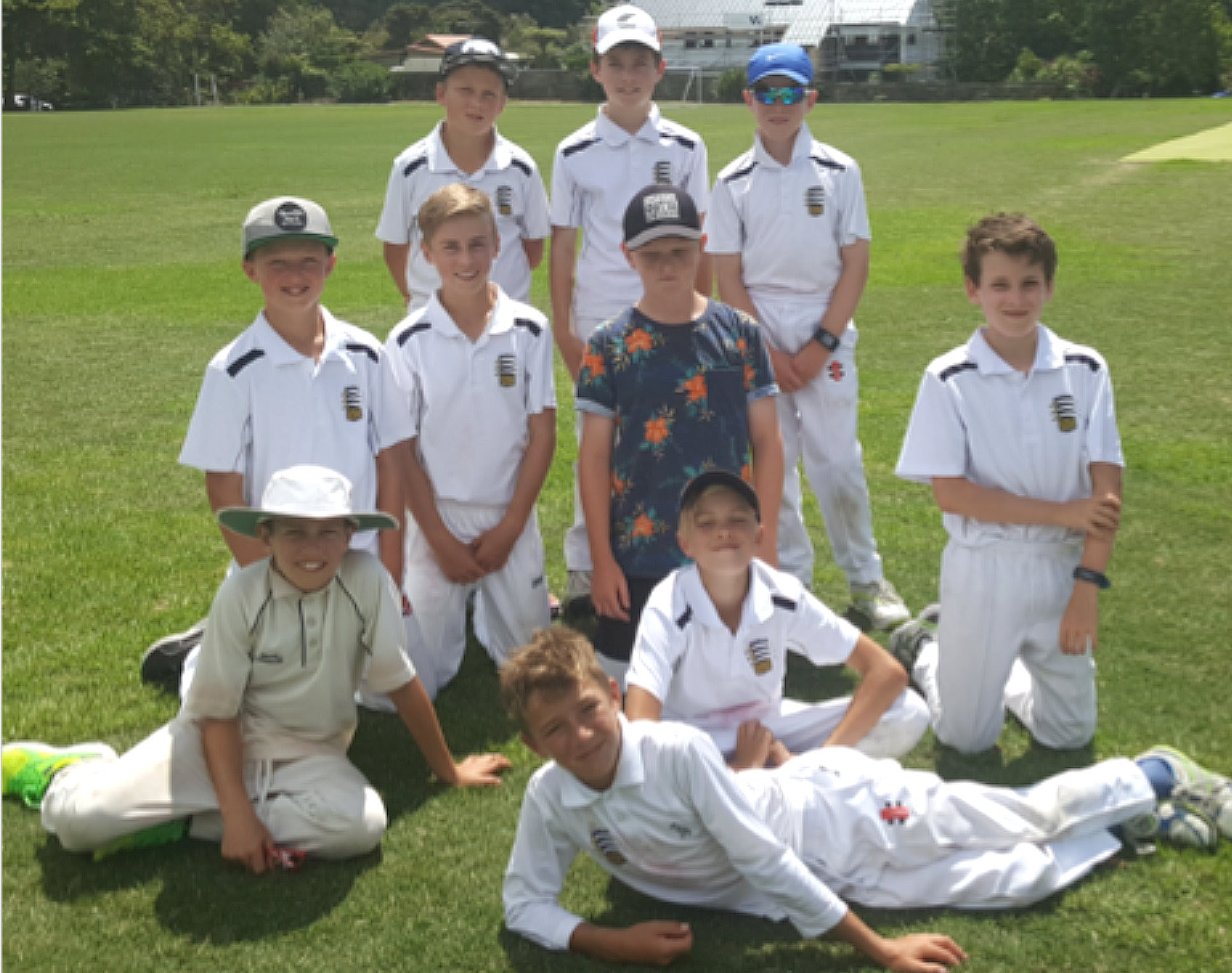 Year 7 team. Heath (in the multi coloured shirt) scored 53*
The Year 6 prem team worked hard in the field to contain a spirited ECB batting line up. Some good tight bowling was largely unrewarded until Conor Langdon's 5 over spell of 3 for 12, which slowed the middle order down. Chasing 134, Hamish Jardine and Vincent Yee Werry (28) started well before Christian Scott took hold of the game for NSCC with a very well-crafted maiden 50 n.o. and together with Ben Pleciak (29 n.o.) ensured a solid victory with 6 overs to spare.
Conor Langdon gets hoisted by a team mate after one of his three wickets.
Christian Scott leaves the field after retiring on his maiden 50*.
NSCC Year 5's also enjoyed a win against East Coast Bays

on Sunday

. ECB won the toss and elected to bat. They were bowled out for 128 runs in the 28th over. The highest scorer for ECB was Master Extras - a slippery ball and some over-eager bowling from our 9 & 10 year olds was sorted out after the drinks break. Wickets were shared by a number, notably Louise Upton, Josh Thompson and Jacob Steele with two wickets each.
Some solid batting from our boys, who handled their nerves far better than their parents. Top scorers were Cooper Harrison-Tubb (17), Sam Pita (14) Ollie Davies (12) and Alex Waldron (12). The boys reached their target with 2 wickets in hand in the 29th over. Excellent sportsmanship displayed by both teams and a fun day out.
Club of Origin
Club of Origin is a competition involving North Harbour clubs designed to keep boys aligned to their clubs once they go off to their respective secondary schools.
There are 2 preliminary rounds and a finals day held at Devonport domain in late March. North Shore selected a squad of 16 year 10 and 11 boys who will play across the first 2 games with the best team to be selected for the finals day.

Round 1:
North Shore was hosted by Kumeu who won the toss and batted. The 45 over game was played in robust conditions ranging from hot steamy tropical periods through to veritable monsoons. Credit to our boys plus umpires and scorers who kept playing on through to make sure a game was possible. Bowling was very difficult with an extremely wet ball.
Kumeu got to 160 for 7 off 45 overs with notable bowling performances coming from Olly Chambers 2- 5 off 9 overs , Rory Price 2-29 and Joe Moore 2- 25.
North Shore set about the chase in improved weather conditions. Good knocks from Cam Howell, 24, and Riley Mudford, 20, paved the way for Jock McKenzie, 58* and Tom Pleciak, 19* to finish the job off in the 36th over four down.

Captain Jock McKenzie (left) was interviewed post game and he paid tribute to the fielding effort in trying conditions but in particularly to Tony Arthur who umpired throughout the innings and was drenched to the core. Luckily Tony always carries a spare pair of underwear with him wherever he goes so he was able to carry on in the second innings in relative comfort.
Go The Shore!