There's going to be more fireworks!
T/20 Quarter-Finals on the 'D'
Tomorrow

Evening!
After demolishing Takapuna by 51 runs last Wednesday on the Domain, North Shore went top of their pool and are in the Quater-Finals against Eden-Roskill - to be played

tomorrow

night (

Wednesday

) on the Domain at 5.30pm.
Bring the family down and give them your support.
Bar is open and get a pizza and pint for just $15!
---
Akash Choudhary smashes another to the boundary in his 37 off 22 against Takpuna last Wednesday.
Premiers on a Roll!
Since Christmas, the North Shore Premiers haven't lost a game, having not only won the memorable T/20 against Takapuna by 51 runs, but in the 50 Over Jeff Crowe Cup, beat University in 17 overs, Parnell in 18 overs and Eden Roskill in 13 overs.
Go The Shore!
---

A short game(s) is a good game

Mike Olsen cuts one on his way to 25 not out
A brace of wins over the weekend for our Premiers now has them at the top of their One day pool with one round to go. The two games mirrored each other with both oppositions winning the toss, batting and failing to reach 100, and then our boys comfortably reaching the target of 87 and 99 respectively before lunch. The true Shore way.



Saturday

we were at Parnell and very soon had them 16 for three on a beautiful deck, with Tim Duncraft (4 for 17) snaring all 3. From there the day got worse for Parnell with Gus McKenzie (1 for 31) and Carl Brungar (1 for 10) grabbing a scalp each, Tim getting another, a sharp run out from Mike Olsen followed by Matt Strain (3 for 27) mopping up the tail for 86 all out. No time for lunch and we were in the middle with the bat. Matt Selby smacked a quick 20 and when Graeme Beghin arrived at the crease the game was quickly over as he powered his way to a classy 40 not out. We were back at the Domain before

4 o'clock

.



Sunday

we were at Eden Roskill with our tails up. Lost the toss again and bowled. Here we go again, the first three were cleaned up by Tim (3 for 23) and they were three for 36. Gus (2 for 14) and Matt Strain (3 for 16) then rolled in and rolled through to have Roskill at 39 for 6. This brought a couple of young lads to the crease who fought back well and took their score to 90 before Matt Selby (2 for 13) tweaked a couple past the bat and tidied up the tail with Stretch Strain. That left us chasing 100 for the win. Again there was no lunch. The caterers were not well. Graeme (67no) and Selby (31no) opened and then finished in emphatic fashion. A very classy 10 wicket win.
Go The Shore!
---
Reserves go down to local rivals
North Shore Reserves failed to overcome a rampant Takapuna on Saturday afternoon, going down by 93 runs. A 100 run opening partnership from Takapuna set the tone for their innings, however North Shore fought back well to bowl Takapuna out in the final over for 242. Zac Watson picking up 4-52 off his 10, with Simon McGowan chipping in with 2-32 and Jono Kemp once again impressing with 2-36 off 10.
The chase got off to a rough start, with North Shore 4/2 in the second over and unable to recover from there, despite a good knock from Simon McGowan with 42 and some late order hitting from captain Aidan O'Connor with 31. North Shore eventually bowled out for 149.
This result effectively ends the One Day title aspirations for the reserves, however there is one final match to go against top of the table Cornwall at Cornwall Park next Saturday. Cornwall have not lost in either one day or two day competitions this year and will be tough to beat at home. We know we have the capability of beating this side having done so in the Two Day final last year.
Go The Shore!
---
B1s bounce back
Coming in fresh from the Xmas break, the B1's looked to start the second half of the season strongly. Losing the toss yet again, Shore were asked to bowl first. Angus Frew provided the early breakthrough in the third over and Ellerslie were 10/1. Ellerslie battled through some good tight bowling spells from Angus and Nic Grantham, Angus Ending with figures of 2/31 from 7 and Nic 2/23 from 7. However, yet again the star of the bowling attack was Akshay Sreenivasan continuing his excellent form taking 4/26 from his 9 overs. Ellerslie bowled out for 120 after 31 overs.
Shore went into bat with the same confidence and aggression as the previous games. A slight hiccup in the third over with Logan Clinch getting out softly.
However, it was a good day for Adeel Riaz Qadri with the bat, top scoring with 66 from 61 balls along with batting partner Nic Grantham scoring 37 from 40 balls.
Shore comfortably getting the required runs after 20 overs losing only two wickets.
Next week the B1's go up against a strong Grafton side down at Devonport Domain where they look to establish themselves as potential competition winners, being unbeaten so far in the One Day competition.
Go The Shore!
---

Now that's a fact
Three of the Captains at the recent New Zealand A tournament at Lincon in Christchurch were all North Shore boys.
Joel Abraham (left) captained Canterbury. Josh Tasman-Jones (centre) captained Otago and Graeme Beghin captained Auckland.
Howzzat?
---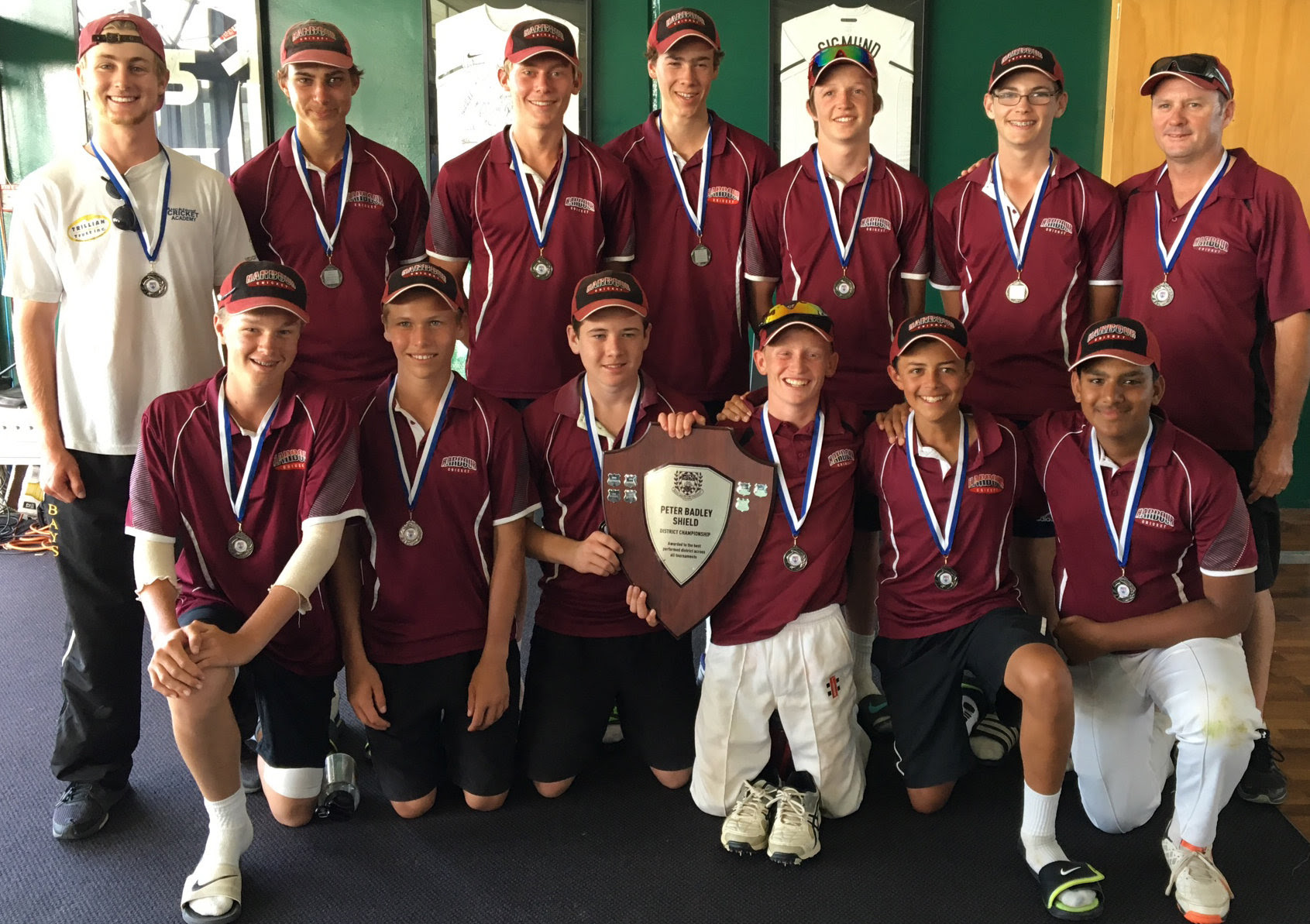 Above is North Harbour Burgundy Year 10 team with the overall District Tournaments Trophy for 2016/17 which North Harbour won for the aggregate results of all District Tournaments.

That's Year 7 – 13 boys and U15 Girls combined results.

In the photo (from NSCC) are Joseph Moore, Riley Mudford, Flynn Goodley-Hollister, and Matt Browning. They finished 2nd in the Year 10 Tournament.

Jock Mackenzie playing for North Harbour Black made the tournament team.
---
North Shore Cricket Club would like to thank all the following businesses for their support of Junior Cricket